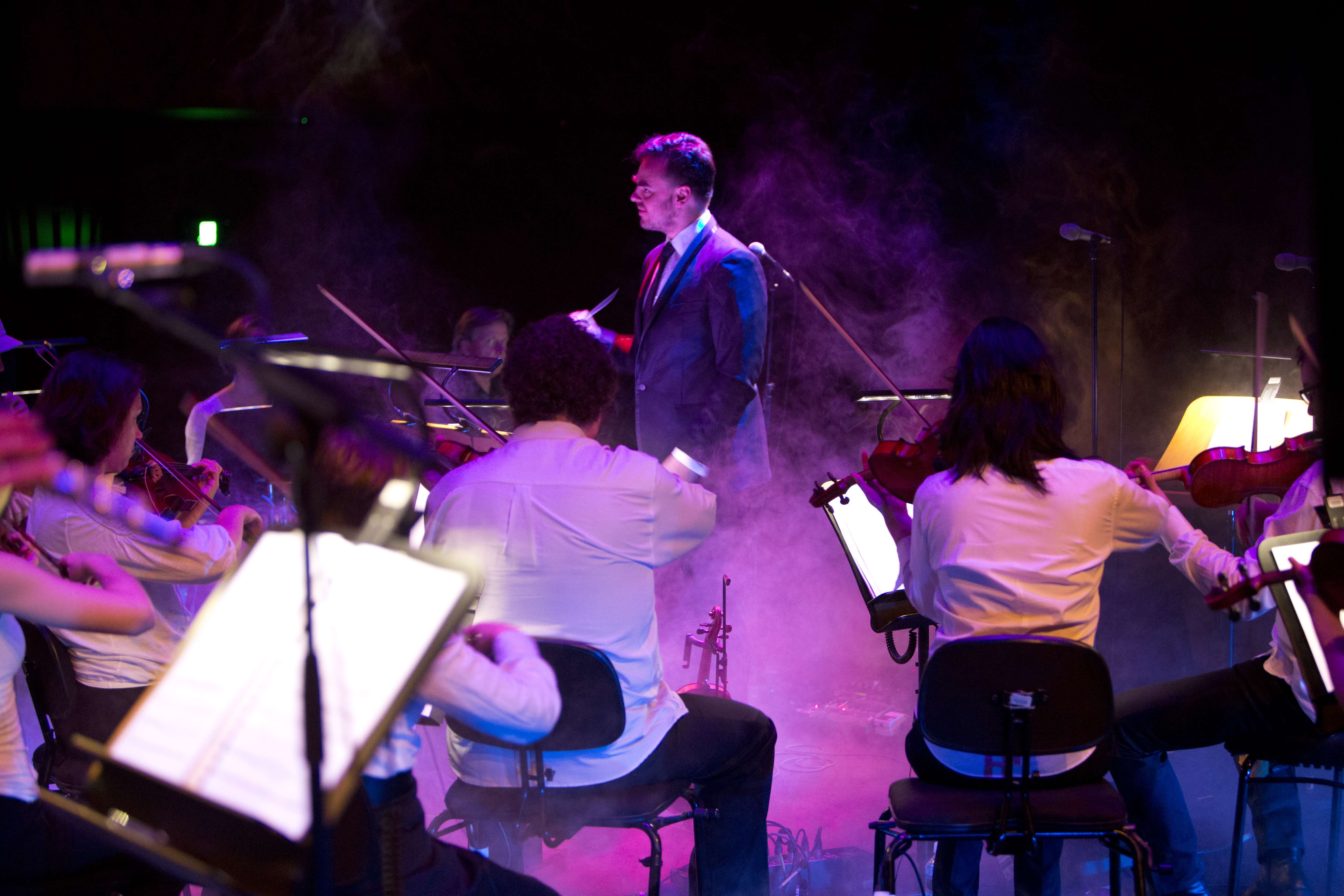 Tamil Rogeon
Honorary Fellow  – Melbourne University, school of contemporary music
Tamil Rogeon is a composer, violinist and producer who graduated from the Victorian College of the Arts with a Bachelor of Music Performance in 1997 and is a current Honorary Fellow of Melbourne University, school of contemporary music.
He has collaborated with the MSO, Orchestra Victoria, The Australian Youth Orchestra (AYO), and the Australian National Academy of Music (ANAM). He has also worked with individual artists from across the musical spectrum ranging from Aloe Blacc and Kate Ceberano to Doug de Vries. He is a co-founder of the orchestral electronic band The Raah Project and the award winning Harvey Sutherland Bermuda ensemble.
2016 he composed and produced an 80-minute soundtrack to an AFL football match/film that was performed live by the MSO at Hamer Hall to the projected film. The Draw: A Symphony.
Tamil has received numerous grants and awards for his work including Music Victoria's "best live act of 2017" with Bermuda and a Green Room nomination in 2008 for dance composition on the Helen Herbertson-choreographed work Sunstruck. He has been the recipient of commissions and grants from the Australia Council and Arts Victoria ('Victoria Rocks'), as well as Orchestra Victoria, the Arts Centre and the Melbourne Recital Centre.
In 2010, Tamil composed the score for the feature film Blame, directed by Michael Henry. Blame was screened and received accolades at the Toronto International Film Festival and the 47th Chicago International Film Festival.
In 2011, Tamil was nominated by the Melbourne Recital Centre for the prestigious Sidney Myer Creative Fellowship. Tamil's expertise in orchestral and electronic crossover music has also seen him compose for, and conduct, the AYO. In 2012 he composed original works incorporating a string orchestra from the AYO and four turntablists. These works were performed at the Melbourne Recital Centre and streamed worldwide as part of Red Bull's cultural program.
Tamil has worked with an eclectic array of collaborators including Aloe Blacc, Krystle Warren, Orchestra Victoria, the AYO, Mercury prize-winning rapper Speech Debelle, French hip-hop artist Fefe and Australian DJ/producer Ennio Styles. He has worked as a string arranger and producer on many popular music recordings and scored short films, television programs and documentaries.
Tamil's orchestral work, 24 Hours In Lapa, premiered on 19 October for the Melbourne International Arts Festival's 2012 program. 24 Hours In Lapa is an oratorio based on the true story of a young man who was gunned down after an argument with police on his 30th birthday in Lapa, Rio de Janeiro, in May 2007. The work incorporates a 30-piece orchestra with additional Brazilian percussion, guitar, singers and electro elements.
In 2013 Tamil was commissioned to write an original work as part of the Monash Academy Orchestra's celebrations for the centennial of Stravinsky's Rite of Spring. La danse de Jean-Francois, was performed by the Academy's 100-piece orchestra.
Concert performances
EU tour: June July August 2017                                              Harvey Sutherland – Berumda
Night Cat: 24 Hours in lapa record launch May 2017              34 piece original orchestral electo concert
MONA: Jan 2017                                                                      Raah Project with full orchestra
Hamer hall, MSO, AFL: September 2016                                The Draw: A symphony
Composed by Rogeon                                                             85-minute original orchestral work
European Tour: August 2016                                                   Harvey Sutherland – Bermuda
Arts Center Melbourne, Playhouse: March 2015                       Raah Project (full orchestra)
Melbourne International Jazz Festival: June 2014                  Hetty Kate ensemble
Adelaide Cabaret festival: June 2014                                      Raah Project with full orchestra and Kate Ceberano
Melbourne Festival, Hammer hall: November 2013                Cinematic Orchestra
Melbourne Recital Centre: October 2013                                Strauss Ensemble (Vienna) & Raah Project
Capital Jazz Project, with the ANU: July 2013                         Raah Project
Changyang Yinyuejie Music Festival, Beijing 2013                 True Live
The Rite of Spring century concert, Monash: May 2013          Le Danse – premier of orchestral commission. Composed T.Rogeon
NGV – Robin Rhode exhibition: 2013                                      Raah Project
Castlemaine State Festival: March 2013                                 Raah project, ANAM
Perth International Arts festival: Feb 22 2013                          Raah Project
Melboure Festival, MRC: November 19 2012                          24 Hours In Lapa, new orchestral work . Conducted / composed T.Rogeon
Atelier de Paris – Carolyn Carlson, Paris: June 2012              Sunstruck, choreographed by Helen Herbertson
Melbourne Recital center: May 14 2012                                  RedBull Beat Suite
Australian Youth orchestra                  Aloe Blacc
Reunion Island – Manapany festival: April 2012                       True Live
Adelaide festival – Barrio: March 2012                                     The Raah Project
Tour of France and Switzerland: June-July 2011                    True Live
Melbourne International Jazz Festival: June 2011                  The Raah Project
Mosaic Festival in Singapore: June 2011                                True Live
National tour of France: March-May 2011                               True Live
MONA FOMA launch in Tasmania: January 2011                   The Raah Project
National tour of France: December 2010                                 True Live
Melbourne Recital Centre: February, December 2010            The Raah Project
Recontres Choreographiques in Paris: May 2010                  Sunstruck, choreographed by Helen Herbertson
Dublin Dance Festival: May 2010                  "
Melbourne International Arts Festival: October 2009               Notes from the Underground, hip hop and spoken word event
Victorian Arts Centre: 2008                                                      The Raah Project
Melbourne International Arts Festival: October 2008               Sunstruck
Melbourne International Arts Festival: October 2007               True Live
Singapore Arts Festival: 2006                                                   Blue Grassy Knoll
Next Wave Festival, Melbourne: 2006                                      The Raah Project
Soul Arts Festival, Seoul Korea: 2005                                      Blue Grassy Knoll